2017 Band and Artist Roster

THE PEACHEATERS: AN ALLMAN BROTHERS EXPERIENCE
From "Ain't Wastin' Time No More" to "Whippin' Post", The Peacheaters dig deep into more than three decades of Allman Brothers Band music and deliver an experience that keeps the vibe alive. Twin guitar melodies, a powerful percussion section, a Hammond B3 organ, and lots of bottom-end seamlessly mesh to deliver the authentic ABB sound. The band's improvisational skills and love for the jam make every song feel as fresh as the first time you heard them. Every show features a unique set list that always includes surprises. In the tradition of the Allman Brothers Band, they never do the same show twice and guarantee their audience a new and rockin' experience every time they take the stage. The Peacheaters also deliver powerful original material. Their debut CD, "Money Don't Beat the Blues," receives regional and international airplay. They have a solid local following and consistently draw a good crowd no matter where they perform. www.peacheaters.com, YouTube video




SLOWHAND GRAFFITI: A TRIBUTE TO ERIC CLAPTON
The mission of Slowhand Graffiti is not to impersonate Eric Clapton and his numerous world-famous sidemen, but rather to chronicle and showcase the vast musical career of the world's most prolific and versatile rock guitarist including his time with The Yardbirds, John Mayall, Blind Faith, Derek and the Dominoes and then on to his solo work right up to present day. Frontman and founder of Slowhand Graffiti, Vernon Northover, has been playing the blues for over 40 years and is not only heavily-influenced by Eric Clapton, but has witnessed his playing first hand during the 1960s in his homeland in London, England. During the show, Vernon shares a few stories of these days and enriches the audience with the details of Eric's career, band history, and influences. Slowhand Graffiti not only lets the audience experience some of the finest music Clapton has produced, as one does at any of his concerts, but also provides the audience with an insight into the enormity and range of this man's amazing career! www.slowhandgraffiti.com, YouTube video




CONFOUNDED BRIDGE: A TRIBUTE TO THE MUSIC OF LED ZEPPELIN
Confounded Bridge is the brainchild of The Peacheaters drummer Alec Antobenedetto, and is comprised of Alec on drums, Rick "The Senator" Goode--also from The Peacheaters--on lead guitar, Jeffrey Baker vocals, Jim Cribby on keys, and Vic Comolli on bass. While not impersonators of Robert, Jimmy and the boys, these seasoned musicians capture the spirit and essence of Led Zeppelin and perform their tunes with precision. Close your eyes and you'll feel like you're stepping back in time experiencing the "real deal". This is a show that attracts a multi-generation of Led Zeppelin fans from teens and their parents to grandparents alike!  This is a band who can truly "bridge" a generation gap--perfect for all-ages shows and festivals!




SPIRIT OF SANTANA 
Spirit of Santa is New England's Premier Carlos Santana Tribute Band. The music of Carlos Santana spans nearly four decades. Playing the best of SANTANA, from the early Woodstock days and the 1970s through the 80s and today, these gifted and seasoned musicians in Spirit of Santana deliver a power, realistic Santana show. Music lovers all over the world--from Rock & Roll, Latin & Jazz to World Beat--can find and appreciate elements of their respective tastes. It is this diversity that Spirit of Santana captures in their live performances. The Spirit of Santana is an event that gives their fans an experience to remember!




THROUGH THE DOORS
Through the Doors is a multi-media tribute to Jim Morrison and The Doors and has been touring since 1980. This re-creation of the sound, vibe and spirit of an actual Doors concert is so complete it never ceases to startle even the seasoned crew. And it starts right away: in the darkened theater, well before the band has taken the stage, anticipation runs hot and the chanting for "Jim" begins. Perhaps it's the audiences' overwhelming desire to experience a true "Resurrection" that fuels the flames. Or, attribute it if you must, to a legend that survives, even grows, some 40 years after the mysterious death of James Douglas Morrison and the dissolution of his band. Even now The Doors' albums continue to sell and Jim's face still appears on the covers of magazines, film, television and radio. They serve up the "Lizard King" on a daily basis, and still the masses pay homage in droves that surpass even the dizzying heights of the band's popularity when still "alive". And yet, a Through the Doors performance goes far beyond the simple duplication of a concert that would have been standard late 1960's fare.  So, sit back in your seat (for as long as you can), and get ready to travel through the Doors of perception, traverse space and time on a psychedelic, mind expanding dance-trance: Ladies and Gentlemen: Through the Doors!  www.throughthedoors.com




NUTSHELL: ALICE IN CHAINS TRIBUTE
Nutshell is Boston's Ultimate Alice in Chains Tribute Band. If you're looking for the LIVE sound of Alice in Chains then Nutshell is the band you want to see. Playing for over five years at every major venue in and around Boston, Western Massachusetts, Maine and New Hampshire, Nutshell delivers all your favorite Alice in Chains songs from Facelift, Dirt, Sap, Jar of Flies, Tripod and Unplugged AND Black Gives Way to Blue. Nutshell also recreates the legendy Alice in Chains MTV Unplugged acoustic show in its entirety.  You will not be dissapointed in this hardworking band that honors the work of Layne, Gerry, and the gang.  www.myspace.com/nutshellboston, YouTube video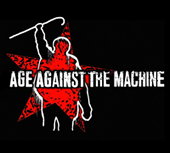 AGE AGAINST THE MACHINE: BOSTON'S RAGE TRIBUTE
Age Against The Machine is Boston's premier Rage tribute. In their own words, "We've been doin' this rock/rap thang for a while. Since 1984 to be exact! When Rage broke out in '92, were we angry? Hell yeah! Not 'cause they were so F'N good, but Zack sounded so much like Joey C. (Vocals). So we had to change our style a 'lil bit. Worked on many original projects, played many a gig and recorded many an album that went nowhere! So here we are 23 years later and it's come to this...Let's embrace this blessed curse and go out there and be the best Rage tribute. Four old bastards from Beantown slammin' to Rage dead-on. It's just that simple!"  www.bostonrage.com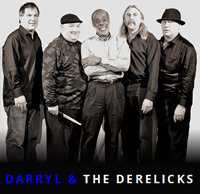 DARRYL & THE DERELICKS
Darryl & The Derelicks are a Central Massachusetts Classic Rock/Blues/R&B band. Soulful vocals, a rock-solid rhythm section, extended instrumental improvisations, and a wide variety of songs are their specialty.  This band loves to jam!  If your looking for music to get you groove on, come party with The Derelicks! The band consists of:  Darryl Butler - lead vocals, Kevin Shiels - keyboards, Glen Martel - guitar, Jay West - bass, and Chris Remillard - drums. Once he started singing publicly at the age of 9, the band's frontman and lead vocalist Darryl Butler never looked back. Over the years Darryl has sang with a number of choirs, notably the St. Louis Gospel Choir Genesis, with whom Darryl sang extensively. This life-long experience comes shining through with the first note you hear him sing.  From soulful ballads to full out rock & roll, Darryl captivates audiences with his gifted vocals. In addition to his vocal talents and being the namesake of the band, Darryl adds his percussion talents to the band. Prior to leading The Derelicks, Darryl was the lead vocalist for local band 8 Amp Fuse.  www.darrylandthederelicks.com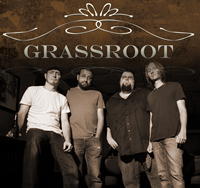 GRASSROOT
Grassroot is a quintet based in Boston, MA. Formed in the spring of 2011 by a group of noted session players and journeymen musicians, they combine elements of rock, blues, roots, funk, soul and jam to make a sound that, while familiar in many ways, is very unique. Their EP "Seed", recorded in 2012, has received high praise from industry members and fans alike, with regular rotation on local radio. They have been featured on television, as well, with their songs providing the morning soundtrack on NECN News, and serving as the house band on WGIR DJ Scorch's PFG-TV talk show.   www.grassrootband.com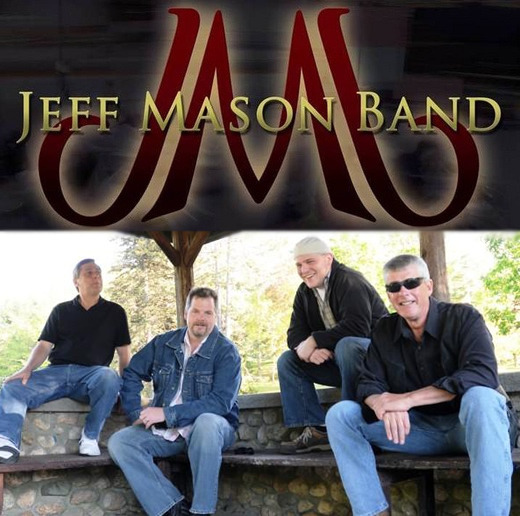 THE JEFF MASON BAND (4- OR 5-PIECE BAND)
The Jeff Mason Band evolved from Rock Mason, a band of New England-area musicians brought together by singer/songwriter Jeff Mason to record his original material. As is typical with the creation of many bands, musicians have come and gone. These changes have ultimately led to the creation a band with a unique chemistry, sound and vibe...a band of passionate musicians and friends alike. Now, the Jeff Mason Band has begun to take on the world of music. The long awaited CD "Get Busy Living" is selling all over the world. The band has played Comcast Center in Mansfield, countless clubs and music festivals, and is currently finalizing plans for a New England Tour. Host a Jeff Mason Band show and discover what fans and club-owners all over New England have been raving about. www.jeffmasonband.com, YouTube video




THE LOIS GRECO BAND (4- OR 5-PIECE BAND)
Music has always been a way of life for Lois Greco. This gifted blues artist has a powerful, soulful voice and plays smokin' lead guitar. In addition to performing with her band, Lois has been involved in film and television with acting roles on "Days of Our Lives", "General Hospital" and a number of episodic series. She began writing and singing for feature films, TV and radio. A number of her films are currently running on HBO, Cinemax, Showtime & USA. While in Los Angeles she worked closely with actor Martin Landau who directed her in the lead role of the rock musical "Reach for the Stars" in which she wrote a number of songs. She spent many hours in the studio providing the speaking and singing voices for a number of Hanna Barbera cartoons as well as commercials for radio and TV. She and her brother, Earl Greco, have always worked together musically. While they were living and performing in Los Angeles, he became very well-known internationally for his advanced bass technique which was recorded on the "Star Licks Video Series". He is a creative musician who has the ability to combine unbelievable technique with incredible sensitivity. Lois built a recording studio in her home in RI in order to be closer to her family and continue to record for film and television projects in Los Angeles and in New England. She was the recipient of the "Most Outstanding Female Singer" Award in the 6th Annual "Blues Audience" Readers Poll. She is currently performing throughout the US and is planning a European tour. She just released her new CD titled, Takin' Hold Of Your Heart". Her current band members are her brother, Earl Greco on bass, Glenn Trojnar on drums, Jody Briggs on keys & Hammond. Although her music is very bluesy, she likes to draw from her other influences of R&B, Gospel, Funk & Rock. www.loisgreco.com, YouTube video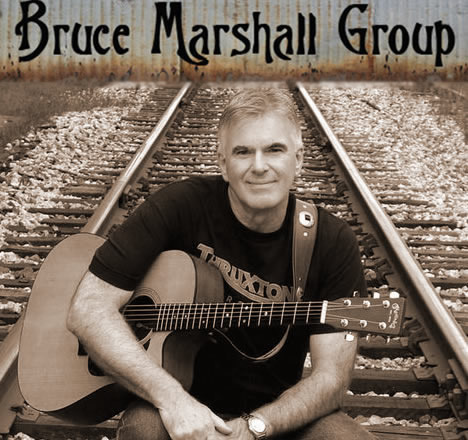 BRUCE MARSHALL GROUP (4-PIECE BAND, DUO, OR ACOUSTIC SOLO)
Local blues legend Bruce Marshall formed the BRUCE MARSHALL GROUP in 1991 and has been performing and recording steadily throughout the US since their inception. Bruce has shared the stage with over 150 national acts, was a former member of The Toy Caldwell Band and toured with Lynyrd Skynyrd, The Outlaws and Charlie Daniels. The 4-piece band takes its listeners on a soaring ride through their 6 CD's in addition to putting out a healthy dose of Toy Caldwell songs from the Marshall Tucker catalog. The 2-guitar attack with Bruce and ace Dave Cournoyer has been going strong for 16 years and they're locked in tight. The rhythm section of Pete Premo on drums and Andrew Renault on bass keeps it all together and makes for one compelling show.  An ASCAP award-winning songwriter, Bruce Marshall just released his 6th record, "Misspent Youth", and its currently enjoying extensive airplay and excellent reviews. He's had a duo with blues icon James Montgomery since 1994 and Montgomery & Marshall have released 2 CD's, headlined national shows and was nominated for a Boston Music Award. He's represented New England twice at the International Blues Challenge in Memphis, placed songs in film, won a Blues Audience Readers Poll and was the vocalist for WB Mason Extra Innings on NESN 3 years running.  Now into his 37th year of full time music-making, Marshall has played over 7000 gigs and shows no signs of slowing down.  www.brucemarshall.net




BRENDAN KELLEY BAND
Billboard Top 40 artist, SiriusXM artist, and voted "Top 25 Singer/Songwriters in Nashville, TN" by @visitmusiccity's 2014 Competition

Brendan Kelley was born in Sutton, Massachusetts. A self-taught musician, Brendan fought off the small town's bordom by pounding away on drums, piano, and guitars, quickly becoming prolific on each. Inspired by the music of Jonny Lang, John Mayer and Stevie Ray Vaughn, Brendan's guitar and music became his escape, and his dream to share with the world just couldn't wait any longer. At age 18, Brendan moved to Austin, Texas to pursue his career as a singer-songwriter. There he worked with producers David Messier and Andre Cantave. His debut album "Music From The Motion Picture" was written in just 72 hours, and recorded, mixed and released within two months. To date, Brendan has worked with Jonny Lang, Grammy award-winning producers Andrew Ramsey and Shannon Sanders, and is now fronting his own six-piece band, sculpting dynamic nuances intriguing the most discerning audiences. Brendan's voice can transform a room into a juke-joint, to a rock hall, to a church, then back again. His songs, stage presence, and guitar are speaking from a soul, full of musical tradition far beyond his years. Brendan is currently living in Nashville, TN writing, recording, and pursing his music career. In addition to touring with his full band, Brendan also performs acoustic shows as a solo or duo. www.brendankelleymusic.com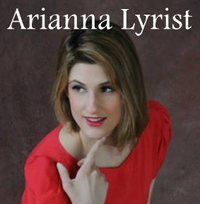 ARIANNA LYRIST
Born and raised in Boston, Massachusetts, Arianna Lyrist was first introduced to music when she joined the 3rd grade choir. By the time she was ten years old, Arianna was writing poems and turning them into songs. After winning 4th place in a singer/songwriter competition. Arianna decided to continue and develop her skills as a singer/songwriter at Belmont University in Nashville, TN. Some of her early influences are Patsy Cline, Beatles, Barbra Streisand, Carole King, and Madonna. As she got older, Arianna's influences include Linda Ronstadt, Atlantis Morrisette, Regina Specter, Christina Aguilera, Sara Bareilles and Adele. While Arianna was in high school, she recorded her first album. Also, during her Senior year Arianna performed at at Carnegie Hall as part of a Gala event. After graduating from high school, Arianna decided she would go to the prestigious Belmont University in Nashville, Tennessee. One of Arianna's professors, Jennie Owens, performed one night and after seeing Owens perform, Arianna knew she wanted to captivate the crowd the way Jennie did. In 2011, Arianna recorded her first EP in Nashville, TN. When asked how she would explain her music to people, Arianna explained, "It's a combination of Sara Bareilles and a pop version of Adele. I draw on songwriting styles of Carole King, Stevie Nicks and Sheryl Crow. My songs can be labeled as pop alternative."  Arianna was born with Familial Spastic Paraparesis which is a genetic nervous condition. Her legs have excess muscle tone and the muscles will over fire and causes her movement to exaggerate when she walks. This has not stopped her but instead has continued to motivate her music. In the future, Arianna would love to write with different artists including Cheryl Crow, Carol King, Adele, and even Paul McCartney. When asked about what message she wants to give with her music, Arianna said, "Believing in yourself no matter your faults, and maintaining your self worth no matter your background, disability, and orientation. When you allow yourself to prevail through all of these difficulties you will overcome them."
www.ariannalyrist.com




RISING TRIBE (3-, 4- OR  5-PIECE BAND)
Rising Tribe is classified as Island Alternative Rock, but fans enjoy its varied musical styles, including Country, Celtic and Reggae. Memorable melodies and relatable, poetic lyrics fuse with funky bass lines, driving percussion, multi-genre violin riffs, and intense vocals to create the Tribe sound. Their Reggae show is becoming a favorite of both fans and venues throughout New England and they have recently performed with the band Steel Pulse. Singer/guitarist Tiffany Gassett writes all of Rising Tribe's material. And yes, the accent you hear on her Reggae tunes is real–she grew up on the island of St. Thomas. Rising Tribe opened for Hothouse Flowers at Showcase Live last year in March and brought in a good crowd and established a growing number of new fans. www.risingtribemusic.com

 


GARY BACKSTROM BAND
The Gary Backstrom Band is a high energy, innovative original act featuring the infectious licks and songwriting of nationally recognized guitarist Gary Backstrom, the mesmerizing grooves of award winning keyboardist Dave Osoff and the dynamic and soulful rhythm section of bassist Brian O'Connell and drummer Mike Doyle.  The band's music features clever, hook filled songwriting and arrangements with intense interaction among the musicians. Their unique sound is interwoven with exciting, unpredictable improvisation that can only be heard in the best live acts on the scene today.  Gary Backstrom, one of the most naturally-gifted and spell-bounding guitar players in the Northeast, fronted the Boston-based group Jiggle The Handle for 10 years. Receiving much widespread recognition with this act, Jiggle The Handle harbored their success by their interactive and highly improvisation live show. As the band moved on, Backstrom felt a new calling approaching. Thus, The Gary Backstrom Band was born.  www.garybackstrom.com




BROGUE: NEW ENGLAND'S PREMIER CLASSIC ROCK COVER BAND (3- OR 4-PIECE BAND)
Brogue is a popular 4-piece group based in Boston, MA. The band's focus is to give a high-energy performance for dancing and listening, playing current songs and oldies from a variety of musical styles, including Rock, Top-40, Reggae, Blues, Folk, Irish, Country, Motown plus almost anything by request. All of the group's members have had extensive experience working with a variety of established recording artists, bands and performance situations in various music styles! Since 2003, Brogue has been performing their diverse music for clubs, restaurants, corporate events, and private parties.  Patrick Hoye, Brogue's founder and leader, hails from Mullingar, Ireland. He played bass guitar with the "Mystics" at age seventeen then moved on to play with the "Swingtime Aces". In 1967, Patrick joined the Joe Dolan Band, Ireland's number one Pop group. They toured Russia, Israel, Las Vegas, South Africa, Canada, Ireland, and England. Patrick came to Boston in 1974 to pursue a degree at Berklee College of Music, and graduated in 1977. He then returned to Ireland and played with the Peter Law Band, and then again played with Joe Dolan for another eight years. Patrick returned again to Boston, and after two years of solo playing, started Brogue as a duo. Brogue is now Patrick's current rock band.  www.brogueboston.com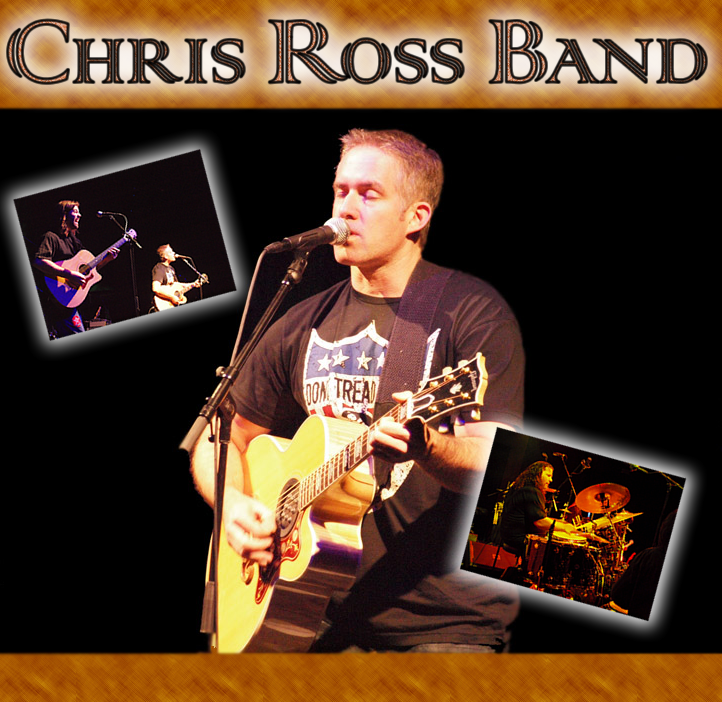 CHRIS ROSS BAND (4-PIECE BAND OR DUO) 
Singer/songwriter Chris Ross has an outstanding lineup of stellar musicians backing him up including guitarist Dave Brunyak, formerly of the popular "jamband" Humblebee and currently of The Phreaks (Phish tribute), acclaimed drummer Alec Antobenedetto of the premier Allman Brothers tribute band, The Peacheaters, and bassist Vic Comolli of the Led Zeppelin tribute Confounded Bridge. Chris's music has unique sound that's a combination of modern acoustic pop with classic 70's acoustic rock. If you like Jordan Page, Crosby Still & Nash, and Edwin McCain, you'll LOVE Chris Ross!  With compassion-filled lyrics and catchy melodies combined with commanding and powerful 4-part harmonies and intricate guitarwork, Chris Ros 's music grabs the listener's attention. Chris has a loyal following and performs both locally at fine restaurants and bars and at large venues such as Showcase Live at Patriot Place in Foxboro where he has performed numerous times.  He has recently released two CDs titled "The Story of Freedom" and "I Believe" which are receiving rave reviews and national attention.  His song, "Freedom" has been nominated for "Best Single" in WMRC's Local Music Awards and he has recently been named "Musician of the Month" by Liberty Bell Radio. His debut CD, which was released in June 2004 and titled, "American Dream", features soulful originals and classic covers. The CD hit the Top 10 list on cdfreedom.com website for 10 consecutive weeks. When you catch the Chris Ross Band live, you'll soon realize what New England's been buzzing about. www.myspace.com/chrisrossacoustic

ROUTE .44 (8-PIECE BAND, QUARTET OR DUO)
The Route .44 duo with vocalist/guitarist Ian Lacombe and sax player Matt Swanton opened for The Crash Test Dummies at Showcase Live in May.  Ian and Matt are the founding members of Route .44, an eight-piece genre-defying band hailing from Providence, RI. With an eclectic fusion of instruments, Route .44 blends a variety of sounds--mixing blues, jazz, klezmer and soul into a pot of rock and roll--to create unique sound they can call their own. Route .44 has won a plethora of music awards from The Providence Phoenix, Motif Magazine and other local and national organizations including "Best Local Act", "Best Female Vocalist", "Act of the Year", and "Best Local Album". The two-piece version of the band marks a return to the roots of Route .44, allowing the listener a rare view into the heart of the songs in their most basic musical form. Route .44 can be booked as a full 8-piece band, quartet, or duo. www.route44.org




SARAH LEVECQUE BAND
Sarah Levecque is a gifted singer/songwriter who hails from Framingham, MA. She started her musical journey by forming a blues band four years ago called 2tonepony. Soon she began writing her own songs and the material was well-received by fans and club-owners alike. With her love for all roots music, old country and just good old rock 'n roll, it wasn't long before she began kicking around the idea to start an Alt/Country band. She and her guitar player Peter (long-time band member and companion), who also shares the same passion for this type of music, loved the idea and soon they began touring and working on a debut cd with all original material. Sarah's music is best described as Americana with influcences of Country, Rock, and Blues. With her warm, smooth vocals and soothing guitarwork, Sarah's music takes you to another time and place. www.myspace.com/sarahlevecqueband




ROCKLAWN (FORMERLY GREEN CASTLE) (4-PIECE BAND, DUO OR SOLO)
Rocklawn is an Attleboro-based, popular pop-rock/alt-rock band with a solid local following. Influenced by great alternative rock bands of the 90s such as Live, Third Eye Blind, Candlebox, and Silverchair to name a few, the band's four talented, hard-working musicians write songs that are both edgy and uplifting, and they perform them solidly with amazing precision and power. Rocklawn can also be booked as a duo with frontman Dustin Oerman on acoustic guitar and vocals accompanied by Mike Laura on acoustic lead guitar with backing vocals. Whether booked as a full band, duo or solo, Rocklawn performs their music with heart-felt passion and is a real professional act with uplifting and inspirational original material. Video of Dustin performing solo: YouTube video




RANDY ROBBINS (SOLO)
Randy Robbins is an acoustic folk-rock singer/songwriter whose beautifully-crafted original songs carry the essence and heart of the 1960s. When Randy shares his music, listeners know they're experiencing something special. He is often referred to by fans as, "The reincarnation of John Lennon" not only for his uncanny physical resemblance to the legendary Beatle, but because of his gifted song-writing ability and uplifting live performances that have been winning the hearts of audiences throughout the Metrowest area of Boston, Rhode Island, and beyond. In 2009, Randy received two music award nominations in Limelight Magazine's Reader's Poll: "Male Vocalist of the Year" and "Best New Indie Album by a Solo Act" for his newly released "Shades of Red" CD. www.randyrobbinsmusic.com, YouTubevideo




ANDREW GREENE (SOLO) 
Delta blues meets classic rock meets folk-pop is one way to describe Boston-area singer/songwriter Andrew Greene, whose infectious raspy vocals deliver raw passion and innovative phrasing. Combine all that with advanced guitar techniques and soulful harmonica playing and it's evident why this self-described "poet with a guitar" has gained the admiration of fans and fellow musicians. Andrew writes and performs soulful, swampy blues-style music. His unique vocal tone and thought-provoking lyrics, create a listening experience that's been gathering rave reviews from his audience and media alike. Andrew has a solid local fanbase and opened for The Marshall Tucker Band at Showcase Live in January 2010. With the release of his CD on October 3, 2010, Greene's music resonates throughout Boston and beyond.  "Andrew Greene's poignant lyrics and unique approach to the delta blues style guitar make him a true original. He is definitely much more than a singer-songwriter. He can really sing and he can really play, check him out." - G.Love  www.myspace.com/andrewcgreene, YouTube video




KATHY LINDSEY (SOLO OR DUO)
Kathy Lindsey has been influenced by the talents of her father, an accomplished jazz musician, and with his guidance she learned to read and write music when she was only 8 years old. In her early teens, she began her musical career playing guitar and singing in various local talent and variety shows. Having grown up in a musical family, it wasn't long before she joined an all-female rock band back in the early 1970s and was touring the Northeast Coast at the young age of 16. Inspired by the sounds of Joni Mitchell, Joan Baez, and Judy Collins, Kathy decided that solo work would give her the freedom to express her creativity while developing a style of her own. Soothing vocals, along with her unique and intricate style of guitar-picking are reminiscent of the artists and era from which she draws inspiration. Whether it be traditional folk music, classic rock, blues or her original songs, this professional entertainer with her warm stage presence, makes the music she plays her very own. Kathy can be booked as a solo acoustic act or as a duo with Rob Harris who is an accomplished dobro/guitar/mandolin player. www.kathylindsey.com



RONDA MATSON (SOLO)
Ronda Matson began her musical journey studying classical piano and folk guitar at the age of 10 and continues to write and perform songs on guitar that reflect her experiences. Adding harmonica in recent years, she enjoys the challenge of playing two instruments at once. Known for her intimate, arresting songwriting and soulful style, Ronda has developed a loyal and growing following. Described by many as a 21st-century troubadour, she presents memorable, transformative songs. She has studied voice with Shoshana Feinstein, classicial guitar with Robert Torres, violin with Luis Antonio Ibanez, and taught herself to play her grandfather's 1920's mandolin.  www.rondamatson.com
 



MARIANNE PASTS (SOLO)
Raised in Germany, Marianne had extensive musical training all through highschool. She studied the violin privately since she was 10 years old. She then started playing guitar and had private classical vocal training with a member of the Munich Opera Company.  "While experimenting with different bands, I started writing songs and was particularly influenced by Irish Folk & Rock as well as American Blues music. I must have watched the "Blues Brothers" 50 million times", Marianne jokes.  "The most fascinating part of writing music for me is to take an experience from my own life and let the creative process take over. Then getting together with producer/musician Joe Clapp in the studio, the songs take on their own life".  Marianne performed for different occasions, at corporate functions and spirutual events in Austria, Switzerland, India and Germany. In 1999 Marianne was invited to perform at the Zurich Peace Festival. "It was there that I realized writing music 'for music' was imprtant to me, expressing emotions not opinions".   Marianne was invited to sing on a meditation video "Khuda" that has been shown in movie theatres throughout India and in over 200 meditation centers araound the world. "I used the lyrics of a famous Indian Urdu poet Darshan Singh and wrote the music to 'Restlessness of the Heart', "as I could relate to the emotions of that poem".  Marianne then released her first full length CD "Moments". Three songs "Postcard", "The River" and "Going Home" made it in the Top 100 Commercial Radio Chart.  "Golden Rings" from her latest CD "Inspiration" has also reached the top 100.  "I'm honoured to be part of the music community in the Boston area."  www.mariannapasts.com